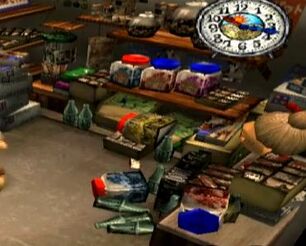 Mrs. Plum runs the store by the police man's office.
Once you have successfully kissed Mrs. Plum, you can purchase the following items from her:
Black Cookie - 80z
Heart Chocolate - 160z
Mochi-kebab - 320z
Popsicle - 200z
Micro Gum - 1480z
The Popsicle is neccesary for obtaining Dr. Dandy's kiss.
---
Go visit her at the snack shop after she is mentioned on the third page of the paper. When you speak to her she can't speak, so you need to get her dentures back. The Underground Resident Dr. Fill has her dentures. (see Dr. Fill) After you get Dr. Fill's kiss he'll give you the dentures, return them to Mrs. Plum for her kiss.link
Ad blocker interference detected!
Wikia is a free-to-use site that makes money from advertising. We have a modified experience for viewers using ad blockers

Wikia is not accessible if you've made further modifications. Remove the custom ad blocker rule(s) and the page will load as expected.