"Mmmmmmmmm
10 o'clock... mmm.

12 o'clock... mmm.
Agony Man

Character art of Agony Man (苦悩の人)

Location

1-1 Worldly Desire Temple

Time

10:00AM-12:00PM

Risk

5 hearts

Drops

320z

Hobby

Toilet Cleaning

Age

27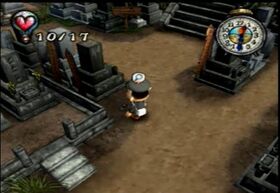 Agony Man is a 27-year old underground resident at Worldly Desire Temple. His hobby is Toilet Cleaning. Once you have gotten his kiss, he cleans the restroom next to the train station, making it clean enough to use.
---
How to kiss-
Worldly Desire Temple in the graveyard in front of the temple stairs.He gets out from 10am to 12pm (Risk of 5 hearts). Wait for him to stop and spread his arms.
Ad blocker interference detected!
Wikia is a free-to-use site that makes money from advertising. We have a modified experience for viewers using ad blockers

Wikia is not accessible if you've made further modifications. Remove the custom ad blocker rule(s) and the page will load as expected.