She's tricky to kiss because she vivas quickly. Ad Balloon will be above you, in the sky on her balloon swing. She will slowly drift down, viva/stay unkissable, then go back up into the air. She typically does this a couple times before going back under ground.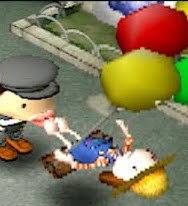 Ad Balloon

Location

Funny Bone Factory

Time

9:30AM-1:30PM

Risk

25 hearts

Drops

1200z
Save right before you pursue Ad ballon, so if you die you don't have to go through a whole process.
The best thing to do as you wait for the viva after she lands is to listen for the viva sound effect and hit the kiss button.